Follow the most urgent, interesting and important city news of the day. Sign up for the CityLab Daily newsletter here.
***
What we follow
Wonders of winter: Let's face it, shoveling snow can be a bear. Most cities leave homeowners, homeowners and businesses responsible for clearing sidewalks – and the results are, at best, random. US cities have generally focused on awareness and fines to keep aisles unobstructed, but the results are far from perfect. Persistent challenges, such as vacant properties or residents with no physical ability to shovel, can leave a mosaic of concrete covered with ice and snow that endangers pedestrians.
It's enough to ask you: why do not cities just plow the sidewalks like they do with roads? From this snowy season, this idea will be tested in Syracuse, in the State of New York, which plans to dig thirty kilometers of priority sidewalks when three centimeters of snow falls or more. The snowy university town joins a short list of cold weather towns that cross to make complete streets an idea all year long. Today on CityLab: Why should cities be responsible for shoveling snow on sidewalks?
---
More on CityLab
---
Land Ho!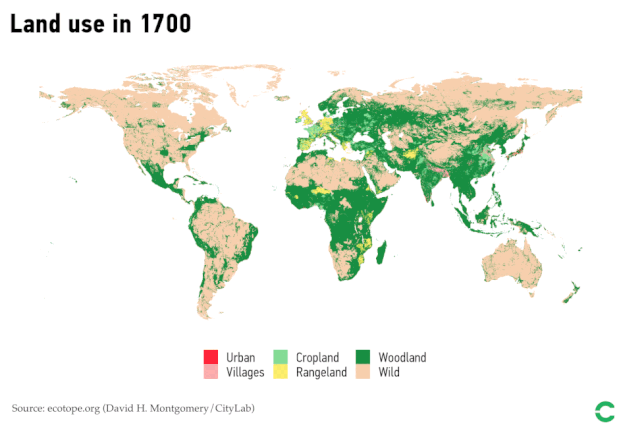 Long before cars and coal-fired power plants, humans were reshaping the Earth's ecosystem in more modest but dramatic ways: pastures and plows. Since 1700, humans have only used 5% of the world's land to occupy more than half of it with agriculture or human settlements.
The map above, using data from environmental scientist Erle Ellis and his team at the Ecological Landscape Ecology Laboratory, shows the dramatic changes that have occurred over 300 years in land use by # 39; man. At the time, the footprint of cities exploded and multiplied by 40, up to about 40 times that of 1700. Today, cities account for only half a percent of the Earth's land surface , but they had the most dramatic impact on its ecosystems. CityLab data reporter, David Montgomery, told the story: how 300 years of urbanization and agriculture have transformed the planet
---
What we read
The Mayor of McAllen, Texas, demystifies the "crisis" at the border (NowThis News)
Civil rights group finds housing discrimination in several Chicago communities (WBEZ Chicago)
How a recession could affect the housing market (curbed)
Soft and low trolley: microtransit shuttle service of Ford axes (wired)
And if cities were no longer the breeding ground for low-skilled workers? (New York Times)
---
Tell your friends about CityLab Daily! Send this newsletter to someone who loves cities and encourage them to subscribe. Send your own comments, suggestions and tips to hello@citylab.com.